CAPM® Certification: Work towards a globally recognised certification that will help you stand out from the crowd.
We recommend this CAPM® exam prep course for new project managers, or those with 1 – 2 years experience.
CAPM® certification benefits:
Gain Project Management Institute (PMI)® widely recognised, good practices
CAPM® certification establishes your project management credibility at an early stage
CAPM® certification is the best possible foundation for progressing to the Project Management Professional (PMP)® credential at a later point in your career
Who Attends this CAPM® Exam Preparation Course?
If you are new to project management, or in the first 2 years of your career, working towards the Project Management Institute's (PMI)® CAPM® certification is a wise move.
Topics covered on this course:
The content of this course is aligned with A Guide to the Project Management Body of Knowledge (PMBOK® Guide) – Sixth Edition. Highlights include:
Project initiation
Project Management Charter
Stakeholder management
Risk management
CAPM® Exam: sample questions and answers
CAPM® Exam: application process and creating an efficient study plan
CAPM® Exam Preparation Course – Learning Outcomes:
Become familiar with the concepts and methodologies outlined in the PMBOK® Guide.
Gain confidence with CAPM® exam sample questions and answers.
Understanding of the CAPM® exam application process.
Develop an effective study plan to help you prepare for your CAPM® exam.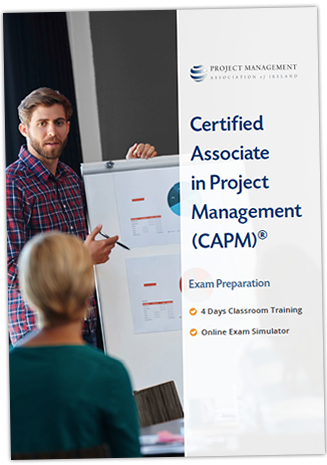 Download your Free CAPM® Exam Prep Course brochure
Full course content
Eligibility requirements
Your route to achieving a CAPM® certification
Download Brochure
*Course Fee Excludes:
Examination fee of €185 for PMI® members and €250 for non-members (paid directly to the PMI®). (This is an indicative cost. Please check www.pmi.org for current details.)