Format: Exam Preparation Duration: 3 Days Price: €1,195*
A practical agile course combined with exam preparation for the prestigious PMI-ACP® certification
PMI-ACP® Exam Prep Course Benefits
Learn current agile approaches to project management
Become familiar with the PMI-ACP® exam structure
Develop a study plan for your PMI-ACP® exam
Confidence and competence in using agile techniques
Who Attends this PMI-ACP® Exam Preparation Course?
For those new to project management or agile methodologies, we recommend attending the first 2 days of this course. Project managers with over 2,000 hours of experience plus 1,500 hours working as part of an agile team are eligible to apply for the PMI-ACP® exam.
Topics covered on this course include:
Agile framework
Prioritisation schemes
Stakeholder management
Forms of Agile, including Scrum
PMI-ACP® Exam application process
PMI-ACP® Exam: sample questions and answers
Download a brochure for a detailed course outline including course content, and the route to certification.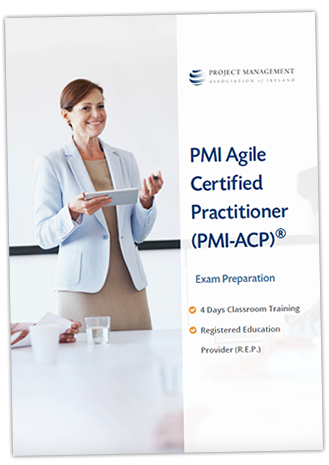 Download your Free PMI-ACP® Exam Prep Course brochure
Full course content
Eligibility requirements
Your route to achieving a PMI-ACP® certification
*Course Fee Excludes:
Examination fee of €365 for PMI® members and €415 for non-members (paid directly to the PMI). (This is an indicative cost. Please check www.pmi.org for current details.)